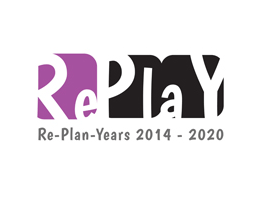 AT A GLANCE
The project aims to enforce the role of older and senior citizens in active participation in the EU civic and democratic process. It brings together 11 organisations from all over Europe in order to stimulate EU cooperation in the field of active ageing and European citizenship projects. Active ageing, intergenerational dialogue, active citizenship of seniors, new Europe for Citizens Programme 2014-2020.
OBJECTIVES
The goals of RePlaY are:
to promote interaction and sharing of best practices among organizations working at EU level, generating new ideas for a process of empowerment for citizens, especially older ones, using the values of diversity in culture, experience and background
to promote volunteering and active citizenship for older Europeans as tools for social inclusion, while valorizing their experience, knowledge and role in the construction of European identity and values
to provide participants with information, tools and competences to apply for new projects, expand their networks and create new partnerships thus deepeningcooperation between partners belonging to pre-existing European networks
to expand partner networks by involving local organizations, thus increasing quality through sharing of local knowledge, ideas and experience
to generate a cascade effect by allowing to partner organisations to pass what they have learnt from the project to other actors at a local level. Each of these networks will then in turn be able to reach new partners and create new links, potentially reaching new targets across Europe.
ACTIVITIES
RePlaY InfoShare is a 7-day meeting (14 to 21 May 2013) involving 22 participants of the 11 partner organisations from 9 EU countries, Albania and the Former Republic of Macedonia. It aims to exchange experience and good practices on the topic of active ageing and intarnational dialogue among experienced organisations that work with EU funded projects. During the seven- day meeting they discussed and analyzed the new Europe for Citizens Programme 2014-2020.
From June to November, was created a booklet with the contribution of all partners. The booklet will be developed by the end of the project, printed and digital version will be available and translated in all partners' national languages.
it will contain:
a collection of best practices concerning active ageing, intergenerational dialogue and active citizenship of senior citizens
the presentation of the new Europe for Citizens Programme 2014-2020
guidelines and tips for future applicant on how to develop a good project
RePlaY Training is a 7-day course addressed to local organisations (22 participants) from all partner countries working on active ageing and interngenerational dialogue with less or no experience in EU cooperation projects.
It aims to:
empower them to actively participate in European programmes
strength capacity building
promote networking
enhance cooperation and creation of international partnership
An InfoDay will be in each partner country at the presence of local authorities and local organisations in order to show project results, disseminate RePlaY booklet and provide information about the Europe for Citizens Programme 2014-2020.
RELATED NEWS