Members and ALDA: together for a brilliant new year!
Despite the big challenge the whole world is still facing, 2021 marked a great year for ALDA: spreading democracy, supporting local initiatives are at the heart of the Association's activities. Yet, much of this has turned into real thanks to, and in collaboration with, members and friends of ALDA.
Hence, listening to members' ideas and proposals is a daily commitment: through interactions the best projects have been made possible! Therefore, ALDA is very much committed to engage and animate its network, offering several concrete opportunities
Yet, what does "being a member mean"? As many of you already know, by joining ALDA and become an ALDA Member, you will enter an international network offering several benefits, such as:
Networking, partnership opportunities and facilitation;
Capacity-building activities;
Free webinars and workshops specifically designed for the members;
Assistance in finding funding opportunities.
---
Listening to members' ideas and proposals is a daily commitment: through interactions the best projects have been made possible!
---
Yet, this is not everything. Believing in its network is a concrete exercise for ALDA: thus, the association re-invests in its members the majority of its total budget. As shown on the picture on the right, the 55% of its resources are allocated to Local Authorities, Civil Society Organizations, and Local Democracy Agencies. In other words: to ALDA's network!
---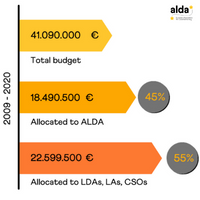 Furthermore, members will benefit from great visibility on ALDA's website and social media channels. On ALDA' website, each member has a dedicated page with all related information, whose content is customisable according to each member's needs. More, by following the hashtag #ALDAMember, each Friday a post will be dedicated to the presentation of a member, on Facebook, Twitter and LinkedIn.
Yet, ALDA Team will be glad to share further information, initiatives and events of our members!
Hence, if a member is willing to spread specific information through ALDA communication channels (social media, website, newsletter), it only takes a few minutes! Write an email with all the information to alda@alda-europe.eu or fill in the form, upload the visual material (if any), and enjoy seeing your initiative spread throughout the enlarged Europe, and beyond!
---
Last but not least… 2022 already brings something new! ALDA has launched a new communication initiative called "Shades of democracy" – the new ALDA Podcast. Each episode, monthly broadcasted, tackled several topics related to democracy, from crowdfunding, to ELoGE, from culture to youth!
Listen to it on the main platforms, and contact us at alda@alda-europe.eu if you want to know more!
Hope to see you online soon! Great to have you as #ALDAMember
***
Shades of Democracy on: