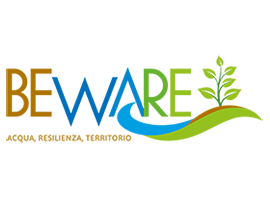 AT A GLANCE
BEWARE focuses on the achievement of a global strategy for climate adaptation to flood risk increasing water infiltration and storage in urban and rural areas and involving the local communities actively. BEWARE project aims at increasing knowledge, benefit and real implementation of NWRM (Natural Water Retention Measures) both in the territory of Comune di Santorso and Comune di Marano Vicentino (Vicenza, IT) and other EU municipalities thanks to demonstrative interventions fully coordinated with activities of information, communication and education.
OBJECTIVES
The project aims at:
Promoting a participative approach to implement local initiatives and measures on water-retention actions facing the climate change's challenge;
Establishing a local administrative, financial and technical context favourable to the diffuse employment of NWRM;
Enhancing the link between European policies and local contexts actively involving citizens and key-stakeholders on the EU goals on climate change;
Demonstrating that small diffused works and implementation of best practices can guarantee hydraulic safety and face climate-change consequences effectively;
Encouraging the replication of the actions proposed in other geographic areas of Italy and Europe.
ACTIVITIES
Start a participatory process with the aim of defining some best practices for the project area;
New version of the Municipality's building code (deal with NWRM) and voluntary Mayors' agreement in line with the Mayors' Adapt Strategy;
Settle a stakeholders' network for the entire Northern Vicenza province to increase the awareness toward the topics of the project toward Mayors Adapt Initiative;
Involve farmers, manufactures and artisans to implement some of these techniques in their firms;
Involve actively the citizens thanks to cultural events, workshops, seminaries;
Disseminate the EU policies by the information's activities;
Implementing concrete actions for water retention in different contexts:
Monitor the impact of concrete actions on the hydraulic system, environment and socioeconomic context;
with wide communications actions for citizens, schools, technicians and land planners/managers;
Develop wide communication and replicability initiatives on water retention;
Start a network activity aiming at exchanging knowledge with similar EU projects;
Settle a real team to refer at regional and national level concerning the topics of sustainable water retention policy/practice.
RELATED NEWS