Since 2015, with the opening of the first Local Democracy Agency (LDA) in Dnipro; followed two years later by the one in Mariupol, ALDA has become a constant presence and strategic partner in Ukraine. Recognised by the Congress of Local and Regional Authorities of the Council of Europe as an instrument for promoting city diplomacy, LDAs testify the positive results of investing in decentralised cooperation and empowerment of local realities. 
Therefore, especially now under war conditions, where civilians are living, ALDA is committed to local government and civil society organisations' support, to make them more resilient and to ensure services to people. Since the outburst of the war, the Association has worked with international and national stakeholders in order to build a fruitful network, aimed at collaborating with Ukrainian cities and municipalities.
---
Recent meetings with international and national stakeholders took place to concretise the opening of 6 Agencies in Vinnytsa, Odesa, Kharkiv, Bucha, Mykolaiv and Rivne
---
Precisely, ALDA has been involved in "the Alliance for the Reconstruction of Ukraine of the Committee of the Regions", in the "Ukraine/Europe Working Group of the Committee of the Regions", while also visiting Bucha Municipality, and exchanging with Dnipropetrovsk Regional Council, just to mention a few.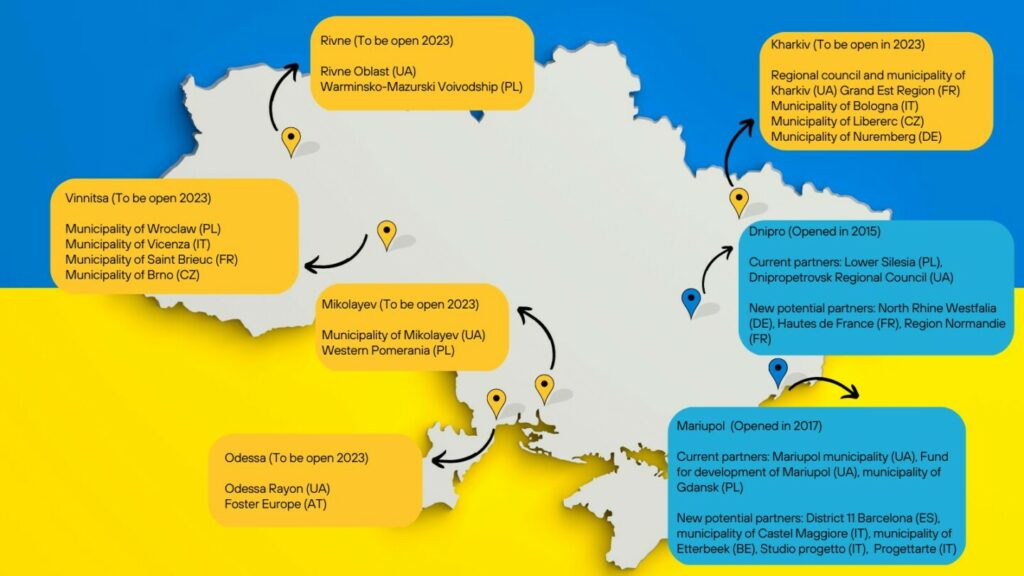 Hence, benefitting from European and extra European exchange, ALDA has been able to successfully liaise with potential partners at international level, with which to start a strong and fruitful collaboration for the opening of 6 new Agencies in Vinnytsa, Odesa, Kharkiv, Bucha, Mykolaiv and Rivne.
From a general perspective, the effort of the Association is testified by its "Flagship initiative of ALDA in Ukraine", which also included the launch of the Open Call for LDAs in Ukraine. The latter set the tone for the future openings, and recent exchanges with partners, such as the one with Odesa, or the signing of the Memorandum of Understanding with the Ukrainian Association of District and Regional Councils.
---
Overall, ALDA believes that common action, and bottom-up approach will lead to the reconstruction of Ukraine, and more resilient societies.
***