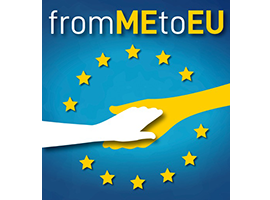 AT A GLANCE
According to the European motto "united in diversity", the project FromME2EU aims to provide opportunities for European citizens and Migrants' communities to work together, in order to promote a new idea of a multicultural Europe. The idea is that every migrant should be considered as a citizen and every citizen has some needs but, at the same time, should bring ideas and innovative approaches to the community in which he lives.
FromME2Eu insist on requirement and selflessness, both based on mutuality. The project provides citizens with a pathway of awareness to highlight the positive potential of solidarity. With a proactive approach, oriented to peer to peer methodology and practical need, FromME2EU lead citizens to maximize social collaboration, at the same time combating scepticism in reception refugees programs (and Euroscepticism's too) and reducing racism, by offering sustainable solutions for common issues involving Citizens and Migrants.
OBJECTIVES
The project is based on 3 phases composed by the European and local dimension. The idea of the whole project is based on the vision that democracy could be built up only by Citizen's engagement (foster European Citizenship), starting from the understanding of differences and driving to inclusion based on mutual recognition of each other needs (improve condition for democratic participation).
Visit the project's website: www.frommetoeu.eu
RELATED NEWS