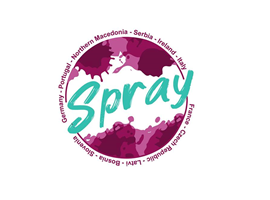 AT A GLANCE
The proposal strives to turn sporadic experiments (e.g. a few cities in former Communist countries painting high-rise blocks in the frame of isolating projects, without any concepts behind colouring and targeting community engagement) into bottom-up initiatives driven by youth in a co-creation process aimed at urban and social sustainability of quarters. In other words, SPRAY believes in the opportunity to reconcile street art and urban and social regeneration through the empowerment of youths at the European level for them to act as multipliers of sustainability in their own communities.
SPRAY responds to the need of regenerating degraded quarters in both urban and social terms, by using art and, specifically, street art. Moreover, it empowers young citizens to take up the renewal of their own town through a bottom-up approach, while inverting the perspective associating graffiti with vandalism and the disfigurement of public spaces.
By capitalising on experiences, techniques and knowledge at the European level, the proposal aims at testing the interconnection between contemporary arts and social complexity of degraded quarters to transform them in sustainable urban hubs. Urban regeneration pursued through artistic and cultural participation by citizens can trigger a virtuous circle of local identities and public spaces rediscovery.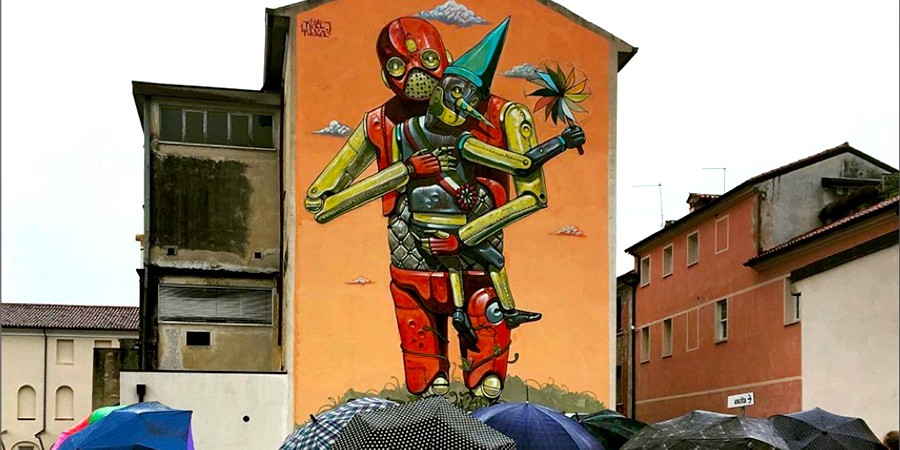 OBJECTIVES
Exploring and understanding street art as a form of art
Contributing to urban and social regeneration of suburbs
Boosting civic belonging and responsibility among young citizens towards livelihood of peripheral urban spaces
Offering an opportunity to learn street art techniques to start an artistic career for youth
Fostering intercultural competences, respect for diversity and EU values
Trigger active and responsible participation of local communities with respect to issues of urban and social regeneration.
Improving the level of key competences and skills of young people, including those with fewer opportunities.
Fostering active citizenship, intercultural dialogue and social inclusion, by increasing learning mobility opportunities for young people.
ACTIVITIES
Activity 1: Advance Planning Visit (27-28 May 2019) Bassano del Grappa, Italy
Prior the exchange, the leaders of the national groups will gather in Bassano for a 2 days meeting to define a well-structured agenda for the activities that will take place during the exchange and evaluate the feasibility of the Wall Experience (i.e. where to do it and how) and the modalities. Moreover, they will shoot brief videos of self-presentation called "Street art and me" that will be circulated among the selected participants through project partners, for the youngsters to get to know them in advance and smooth the team-working dynamics during the exchange.
Activity 2: Youth exchange – six days – 14-19 October 2019
The participants of the youth exchange will attend Street Art Masterclass and will reflect on the nexus between arts and urban and social regeneration of quarters, with art expert providing examples of successful experiments of the kind at the European level. Art experts will translate into a street art work the ideas developed by the youths during the week, on surfaces previously identified. Youths will also contribute, by working (painting or spraying) on blank canvas. There will be a final event to celebrate the street art work with the local citizenship, as well as the conclusion of the youth exchange.
Activity 3: GRAFternoon
Once back to its country, each national group will organise a "GRAFternoon" in its own community, a creative workshop open to the public where they will showcase the art works done in Italy. Youths will gift their city the canvas they have produced in Italy, deposing it in a public space that will have been previously chosen.
A Facebook group will be developed, so participants will be able to share contents, photos and impressions. An Instagram profile will be also opened, as a professional tool where to display the art works in Bassano and back home.
RELATED NEWS