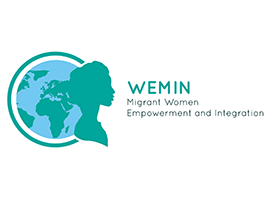 AT A GLANCE
The project aims to implement and promote comprehensive integration model for migrant/refugee women. In this order, it will implement direct interventions in women populations through experience-sharing among partners. Social, cultural, educational and professional aspects of inclusion will be addressed a high level of active participation will be reached.
OBJECTIVES
Implement and promote a comprehensive integration model for migrant/refugee women. The long term impact is to empower migrant/refugee women to participate actively and competently in the host societies' sociocultural life. The objective is to promote social inclusion of migrant and refugee women of all ages.
ACTIVITIES
Activity 1: Creation of a Good practice guide. Each partner will identify 20 good practices. The expected results are to create this guide and then disseminate it to stakeholders and provide them with the necessary information to replicate in their countries.
Activity 2: Community development and awareness raising. Each partner will identify 40-60 MRW to participate in the project activities. Creation of a Dissemination Plan. All of the partners will have to disseminate and raise awareness about these issues through activities (interviews, press releases, leaflets…).
Activity 3: Training sessions for the MRW. 80 hours of training per group and two groups in each country. The expected results are to develop participants' skills and are crucial for inclusion.
Activity 4: Empowerment and monitoring. Empowerment sessions (at least 24 hours per country) for 40-60 MRW. Implementation of mentoring sessions of expert counselling and peer learning (at least 6-8 sessions individually or in groups) for 20-40 MRW.
Activity 5: Implementation of 3 workshops of 16 hours each for 40-60 MRW and 30-50 women from the host society country. 2-day exhibition workshop outcomes and products per country. Collection of testimonials, at least 25 per country.
Activity 6: Peer learning platform to gather and disseminate all of the materials of the first five Work Packages.
RELATED NEWS