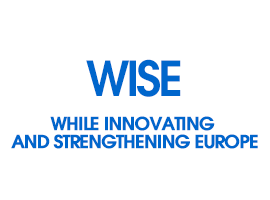 AT A GLANCE
In recent years, while lots of people have found themselves surrounded by unfavourable economic and social situations, Euroscepticism has been raising all over Europe – United Kingdom leaving from Europe Union has confirmed it. Consequently, WISE project primarily focuses on promoting democratic engagement and active citizenship in local and union policy-making, in order to make citizens the importance of belonging to the EU. There seems to be no better occasion to start than the 60th anniversary of the Treaty of Rome in 2017, to reflect on and learn from the past of European Union. Current challenges and the possible EU future scenario will be approached by the project. Citizens will have a possibility to see how they can drive Europe towards a positive change.
OBJECTIVES
The main objectives to be achieved by this project are the followings:
To contribute the citizens' understanding of the Union, its history and diversity.
To foster European citizenship and improve civic and democratic participation at European level.
Raise awareness of remembrance, common values and history and the Union's aim that is to promote peace; its values and the well-being of its people by stimulating debate, reflection and development networks.
Encourage democratic and civic participation at Union's level, by developing citizen's understanding of the Union policy-making process and promoting societal and intercultural engagement and volunteering at European level.
Understanding and debating Euroscepticism.
Combatting stigmatisation of immigrants and building counter narratives to foster intercultural dialogue and mutual understanding.
Debate on the future of Europe.
ACTIVITIES
Online steering committee meetings – The representatives from each partner who are part of the Steering Committee will meet in online session, in order to introduce each other, plan the activities, monitoring the project progress and evaluate its performance, fit issues and adjust the action towards objectives. These meetings will be regular and will take place at least before international events and at the end of each local phase. Further meeting will be held according to the needs of the consortium.
First international event – The project partners will gather in the city of Rome (Italy) as the first international event of WISE project. The commemoration of the 61st anniversary of the Treaty of Rome will be a relevant topic of this meeting. Key moments of the EU birth will be remembered, also EU current challenges and hot topics will be presented by experts during this two-day event.
Local activities (phase 1): EU learn – This first local activity will be aimed to engage citizens and increase their knowledge about the history of the EU. Local communities will be able to learn more by means of documentaries, developing games, storytelling from the elderly, etc.
Local activities (phase 2): EU reflect – Citizens will be able to participate in public debates and exchange opinions on current challenges faced by European societies and global challenges such as migration, crisis of the globalization model, etc. Special attention will be given to the role of civil society in promoting the EU values and the means to do it.
Local activities (phase 3): EU act – European awareness workshops will be held for local communities. They will be able to discuss this time about the future of EU, about challenges and opportunities. How citizens can drive towards a positive change will also be one of the main topics. The purpose will be to conclude with recommendation for local actions, national and at European level from different perspectives.
Final international event – This event will bring together representatives from all the project partners.
Local recommendations produced at the previous local event will be presented in this event under the shape of videos, slogans or manifestos. There will be a discussion with regards to the whole projects itself, the outcomes, overall impressions, strength, weaknesses, possible cooperation and activities for the future will be discussed.
RELATED NEWS